"A Competition to promote Harmony in Europe and the countries of the World"

The name CICERO is an acronym in Latin, as you can see above. CICERO is an innovative competition organised by teachers of Classics in several different countries for their 6th form students, illustrating that Latin provides a worthwhile and valid reason for young people to interact with each other across their national boundaries. Serbia is the latest to join us!
Teachers in other countries are invited to contact the organisers if they would like to join us. The competition in each country can be as large or small as you wish.
STOP-PRESS! THE U.K. COMPETITION ON 23 MARCH 2013 IS ORGANISED BY HELEN CHAMBERS OF KING EDWARD VI HIGH SCHOOL FOR GIRLS IN BIRMINGHAM AND ALEX KOMAR OF MALVERN ST JAMES SCHOOL. THE COMPETITION WILL TAKE PLACE IN BIRMINGHAM AND EDINBURGH consules@ciceroconcordia.com
Here you can see the Mayor of London, Boris Johnson (when he was the Shadow Minister for Higher Education) explaining why he thinks the CICERO competition is such a good idea. It is a competition for 6th Form students of Classical subjects and/or Latin. In the UK there are three first prizes of £150, second prizes of £100, third prizes of £50 and fourth prizes of £35 as well as signed books to win.
Students can talk to fellow-students in different countries by video-conferencing, listen to guest-lecturers and answer questions on the topic of 'Alexander the Great' as well as attempting a translation from Latin.
DATE
Saturday 23 MARCH 2013
VENUES
King Edward's School for Girls, Edgbaston, Birmingham
George Heriot's School, Lauriston Place, Edinburgh EH3 9EQ

ENTRANTS
6th Form (Years 12 - 13) students of Latin may enter both sections of the competition.
6th Form students of other Classical subjects (Classical Civilisation, Greek, Ancient History, Archaeology) may enter the Cultural section of the competition.

COMPETITION - enter one or both sections.
Language test : 1 hour 30 minutes.
Translation into English (using a dictionary) of a Latin (or neo-Latin) prose text on a subject relevant to modern society (eg ideas of politics, government, citizenship ...)
You should bring your own dictionary : pocket or intermediate size. The passage may be taken from ANY Latin prose author.

Cultural test : 1 hour.
Alexander the Great - this topic will look at everything to do with Alexander and his achievements, as shown in the literature, the iconography and the modern tradition of the story.
It is important for you to research in preparation for the competition.
Please do a web-search to find information on Alexander the Great as a starting-point - it is a good idea to look at other books and sources as well.
You will need to know the stories/history as told by authors both ancient and modern, and be able to remember and comment on the design of (e.g.) selected paintings and sculptures. Anything about the tradition and reception of the material could be relevant, as well as the archaeological evidence. There will be several short-answer questions : just answer as many as you can!



APPLICATIONS
Please contact the organisers, specifying which venue you wish to attend, as soon as possible. There is a £10 entry fee per school, covering all entries. Cheques payable to 'Cicero UK'.
Contact Ms H. Chambers at King Edward VI School for Girls in Birmingham consules@ciceroconcordia.com or
Mr D. Carnegie, DC@george-heriots.com at George Heriot's School,
PRIZES
We are very grateful to our financial sponsors for their generous support! First prizes (for all 3 categories) will be £150, second £100 and third £50, and there are signed books from authors with Classical links.
- Language test : national prizes : separate categories for L6 and U6 and
the Malvern St James cup for the school of the U6 winner to hold for one year.

international prizes: entries from all countries will be marked together and the Federico Mayor Prize will be sent from UNESCO 'A Ray of Hope' for the school of the world-wide winner, along with an individual prize from A Ray of Hope.
and national prizes.

- a Cicero Diploma for each entrant (teachers can download this and print it for their students: if you have not received details please contact anne@ciceroconcordia.com)
Federico Mayor Prize for the winning school worldwide
Federico Mayor Zaragoza is a former Director-General of UNESCO and he is the Patron of the CICERO competition. The 2012 winner came from a school in France (the 4th time a French school has won since the competition began! Bedford School in England won the prize in 2008 and a school in Lodi, Italy won last year.
A Ray of Hope UNESCO Youth Ambassador for the Culture of Peace Prize for the winning candidate worldwide
A Ray of Hope has supported CICERO from the beginning and they are providing an individual prize as well as providing the school's prize on behalf of Federico Mayor.
U6 Latin translation Prize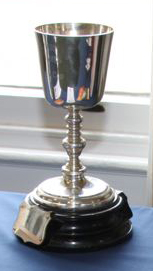 The Malvern St James CICERO cup goes to Bristol Grammar School for 2012. It has so far been held by RGS Worcester, Bedford School, Hazelwick School, Haberdashers' Aske's School for Girls and The College of Richard Collyer.
Click here for details of our UK sponsors who are kindly providing money and prizes to support this competition.
UK 2012 PRIZEWINNERS WERE ANNOUNCED AT THE J.A.C.T. CONFERENCE ON SATURDAY 19TH MAY. You can access the complete list here. Question papers from this year and previous years can be downloaded from the bottom of this page.
CONGRATULATIONS TO Alice Williamson, from George Watson's College, Edinburgh, for winning the Culture test. With 36 marks, she was only half a mark below the Italian and French students who were placed according to their answers to the Tie Break question. Congratulations also to Rachel Fletcher of The College of Richard Collyer: your school will hold the prestigious CICERO cup for the U6 translation for this year - and congratulations to Rex Stretton Pow of Bristol Grammar School for winning the L6 translation test.
Click here for a full list of winners and click here for a Press Release.
Click http://cicero.rtwilson.com/cic2012.html for videos etc. from 2012.
Click HERE for videos and pictures from CICERO 2011- including a James Bond spoof on the story of Jason and the Argonauts
(news of the 2010 competition - including student videos)
PRIZEWINNERS were announced at the JACT Conference on 15th May 2010.
Click here to download a short video of CICERO UK 2009. I am starting to put CICERO videos onto You Tube "ciceroconcordia"because downloading is much quicker.
UK RESULTS WERE ANNOUNCED AT THE AGM AND CONFERENCE OF THE JOINT ASSOCIATION OF CLASSICAL TEACHERS ON 16 MAY 2009. Click here to see articles in JCT and CANews.
The 2009 UK competition took place at Cranleigh School in Surrey on 21st March - a most enjoyable event!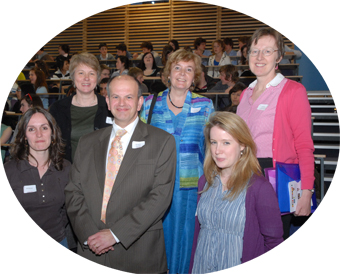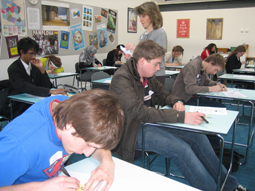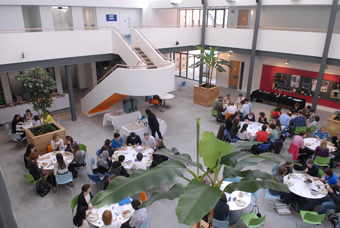 .. PRIZES of £150, £100, £50!
We are extremely grateful to all our sponsors for their financial support - without them we could not run the competition. Please download the programme to see details of our supporters as well as photos and timetable of the day. More can be seen on the SPONSORS page of this website.
There were over 300 competitors in France in 4 centres - Paris, Strasbourg, Avignon and Nancy. Belgium had 61 competitors and Italy 68.
Click here to download a short video message from some competitors in Spain. (This is an .mpg file)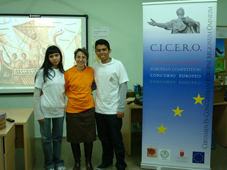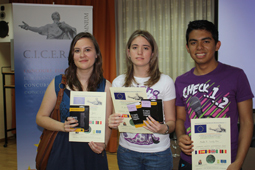 Here is the competition in Andorra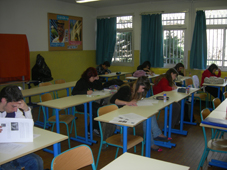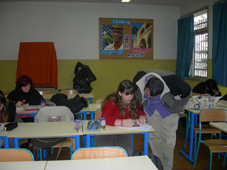 - and in the Town Hall of Lodi (near Milan) in Italy.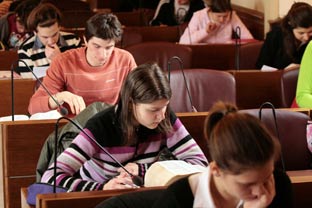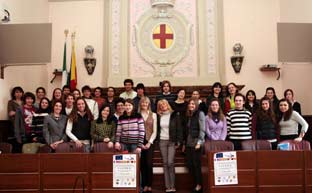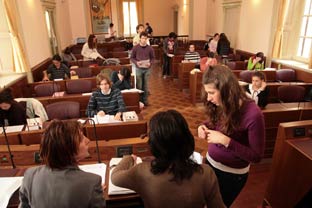 Sebastian Coe was our patron in the UK for the 2009 competition, and we also had the support of Gail Trimble and Boris Johnson (see below). See the UK sponsors page for a complete list, which includes Federico Mayor Zaragoza, former Director-General of UNESCO.
The following video was recorded for the 2008 competition and it provides a good explanation of CICERO's aims as well as showing the enthusiasm of the participants.
UK 2008 video
"Listen!"
to Boris Johnson, London's Mayor and former President of the Joint Association of Classical Teachers, who sent us this personal message of support and encouragement in 2008. You can see more celebrity sponsors and details of prizes here.
IT WAS A HUGE SUCCESS! 80 STUDENTS TOOK PART IN MALVERN IN 2008.
QUESTION PAPERS ARCHIVE
2012 question-paper on Aeneas in Troy and Latium
2012 UK translation and markscheme
2011 question-paper on Jason and the Argonauts
2011 UK translation and markscheme
2010 question-paper (UK) on Carthage, from Dido to Hannibal
2010 France CULTURE Carthage
2010 UK translation
2009 question-paper (UK, Belgium and France) on The World of Odysseus

2009 UK translation
2008 question-paper (UK, Andorra and Spain) on Hercules/Herakles

2008 UK translation

Please continue to check this website for updates about the arrangements and further details.